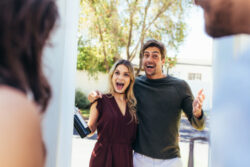 Picture this: it's a lazy Sunday afternoon, and you're relaxing at home, enjoying some well-deserved downtime. Suddenly, your phone buzzes with a message from a friend or family member: they're just around the corner, and they'd love to come over for a visit. Panic sets in as you glance around your living room, which is cluttered with yesterday's belongings and a layer of dust. We've all been there – caught off guard by unexpected guests. But fear not, because today, we'll be unveiling the secret to an ever-ready home for unexpected visitors.
The Importance of a Presentable Home
Having a presentable home at all times goes beyond simple appearances. It reflects your hospitality, personality, and attention to detail. Ensuring your home is guest-ready shows that you value your visitors and that you take pride in where you live. Moreover, an organized and well-maintained home creates a warm and welcoming environment, setting the stage for enjoyable conversations and memorable moments.
Practical Tips for Quick Clean-ups
To tackle those impromptu visits with ease, it's essential to have a few quick cleaning tricks up your sleeve. Here are some practical tips to help you spruce up your home in no time:
1. Create a cleaning caddy: Gather essential cleaning tools like microfiber cloths, multi-purpose cleaner, glass cleaner, and paper towels in a caddy for quick access. This way, you won't waste time searching for cleaning supplies in different parts of the house.
2. Focus on high-traffic areas: Concentrate on the areas guests are most likely to see, such as the living room, entryway, and bathroom. Wipe down surfaces, quickly vacuum or sweep the floors, and fluff any throw pillows or cushions to give your home an instant facelift.
3. Clear the clutter: Grab a laundry basket or large cardboard box and quickly gather up any loose items lying around. Toss them into the basket, hide it away in a closet, and deal with it later when you have more time.
4. Freshen up with scents: Light a scented candle, spray an air freshener, or simmer some potpourri on the stove to instantly freshen up the atmosphere and create a pleasant scent throughout your home.
Professional Home Cleaners for Deeper Cleaning
While quick clean-ups are a game-changer for unexpected guests, sometimes your home may require deeper cleaning, particularly for special occasions. This is where professional home cleaners come to the rescue. These experts have the tools, expertise, and time to thoroughly clean your home, leaving it immaculate and ready for any occasion. Whether you need a thorough carpet cleaning, a deep kitchen scrub, or a complete house wash, professional cleaners ensure your home is guest-ready in no time.
Conclusion
An ever-ready home for unexpected guests is not an unattainable dream. By recognizing the importance of a presentable home, utilizing practical cleaning tips, and considering professional home cleaners for deeper cleaning, you can ensure your home always welcomes guests with open arms. So, the next time a surprise visitor knocks at your door, you'll be ready to impress, no matter the circumstances.
Got Questions? Let Us Help!
Welcome to Scrubs Home Cleaning! Scrubs Home Cleaning is a family owned home cleaning service that has been serving Frisco, McKinney, LIttle Elm, Oak Point, Prosper, and surrounding communities since 2005! Our attention to detail and our exceptional customer service is what keeps us as the best cleaning service in the Frisco, Texas area! Our goal is to provide consistent quality and efficient whole home cleaning from the bathroom to the bedroom. Call us today for a free estimate!
Categorised in: Professional House Cleaning